It's Week 5 of the fantasy football season and we're finally at a point where the current year data is beginning to have some meaning. While many different factors come into play when identifying DFS plays, our premium analysis focuses a lot of attention on targets and red zone opportunities. The logic behind using these statistics is pretty straight forward and both statistics are pretty readily available across the industry.

That's why we like to push the limit and take this data to the next level. One way to do that is by analyzing the defensive side of these statistics. In general, we want to target defenses that are generally weaker and tend to remain on the field longer to see more plays against (more offensive volume = more fantasy production). Below are the team defenses that have allowed the most targets to each receiver type this year:

As you can see, Atlanta and Pittsburgh both rank among the leaders in targets allowed to each of the opposing receivers. The Falcons are the league's top ranked offense, but what's getting overlooked is that they are putting up gaudy offensive numbers because of the high tempo, fast-faced offenses that their offenses employ. As a result, their games typically result in shootouts and always seem to be good games to target from both sides of the ball.

Another way to use this data is by identifying specific values. Looking at the running back position, DeAndre Washington is emerging as a great value option this week with Latavius Murray sidelined. Getting the touches are a big piece of the puzzle, but we also rely heavily on matchup data to make the decision whether a player is cash game viable or tournament-only. In this case, the Raiders will be going up against the Chargers defense that has given up an average of 11 targets to running backs per game. Neither Washington nor Jalen Butler have been heavily involved in the passing attack up until this point, but all of that could change this week given the matchup data and the opportunities for the players in these roles.

Next, let's take a look at which teams are allowing the most red zone targets per game. Any successful DFS player will tell you while yardage can only take you so far. Finding that players facing teams that allow both a lot of targets per game as well as to targets in the red zone is a really important key.


Not surprising, the Pittsburgh Steelers also rank among the league leaders in red zone targets allowed per game. Like regular targets, the more red zone targets that a team's opponent sees, the more frequently, those opponents pop up as strong value plays this week. That's the case for the New York Jets passing attack in Week 5. Not only are they solid plays because of the high volume they will likely see, the Jets' entire passing attack is also among the leaders in touchdown probability this week.

We'll continue to explore more topics like these on a weekly basis moving forward. In the meantime, don't shy away from exploiting what the numbers tell you. Good luck!
To view ALL of our positional write-ups, and Value Plays for Fan Duel, Draft Kings, and Fantasy Aces. Sign up for a free 7-day trial here:http://www.myfantasyfix.com/amember/signup/

Screenshots of Premium DFS tools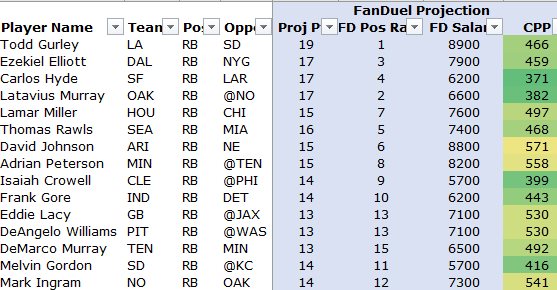 Want to see more ? Register for a free 7 day trial at MyFantasyFix.comand let us help you take down some of that money in your Weekly High Stakes Football Contests. Subscription options include Game Play Analysis and Site Specific Cheat Sheets (DraftKings / FanDuel / FantasyAces) which highlight our weekly play recommendations based on the salary structure of each game provider (click here for more info). Also included in both subscription packages is the Fantistics Weekly Player Projections, click here to start your free 7 day trial.
<!-comments-button-->